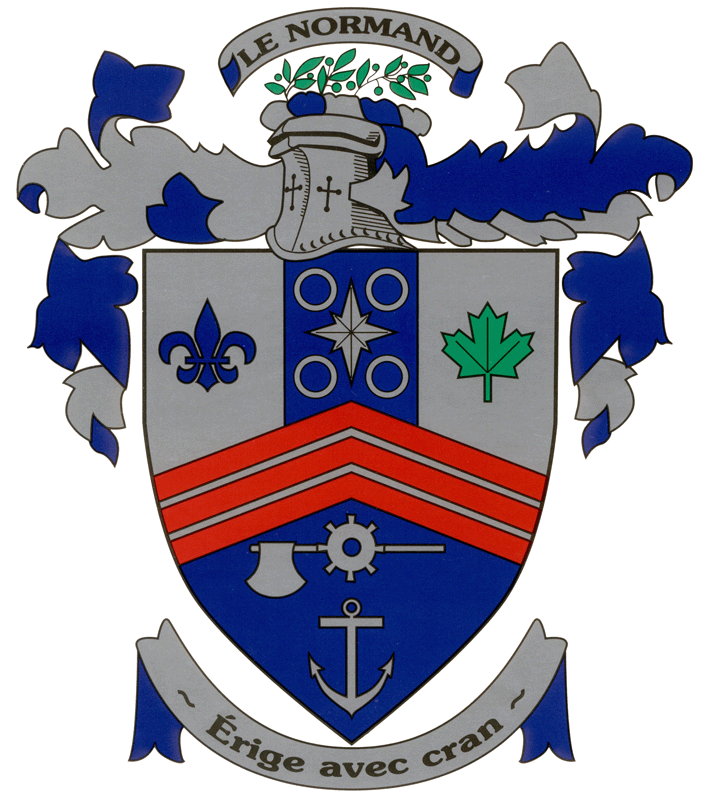 The coat of arms reflects the surname Le Normand, man of the North, the ancestor Jean and his three sons, Jean, Charles and Joseph, their wives and the occupations of the ancestors and their descendants.
The Nordic cross recalls the Normand men of the North and the four rings for wives and mothers. The fleur-de-lis symbolizes our French origins and the maple leaf for the new France in America.
The three rafters come from the arms of Perche, province of France, cradle of the ancestor Jean.
In the tip of the shield on a blue background, the ax to be squared represents the trades of the wood, the carpenters and others; the anchor for navigators and the gear wheel for specialized mechanics. 
DESCRIPTION
Azure and silver with three chevronnels Gules (red). At the chief at the pale azure charged with a Nordic cross flanked by four annuli pal. In dexter the fleur-de-lis azure and sinister the maple leaf vert (green).
At the base azure anchor point surmounted by an ax to squaring, the handle passing under a gear wheel serrated all silver. Ancient helmet with natural and azure and silver lambrequins. Crest: Azure and silver bump surmounted by three branches of laurel. At the top on a silver listel the surname LE NORMAND.
MOTTO « BUILD WITH GUTS »
The motto, inscribed on a listel beneath our coat of arms, expresses in a short formula the aspirations of the descendants of Jean Le Normand and Anne le Laboureur.
The three words of our motto « build with guts » strongly inspire the commitment of Normand and members of the Association in all activities of family, social and economic life.
The verb « erige » is an action verb. It commits the work to be done and the achievements to be accomplished. It is conjugated in the present to mark the spirit that animates the Normand, lives today as yesterday and tomorrow.
The expression « with guts » evokes an attitude and a moral force. These words appeal to the convictions and determination of those to whom they are addressed.

The motto gives meaning and meaning to all the symbols and colors of the coat of arms by evoking the origins, the belonging and the world of work of men and women: the Nordic cross, the three chevrons, the fleur-de-lys , the maple leaf, the four rings, the ax, the gear wheel and the anchor.