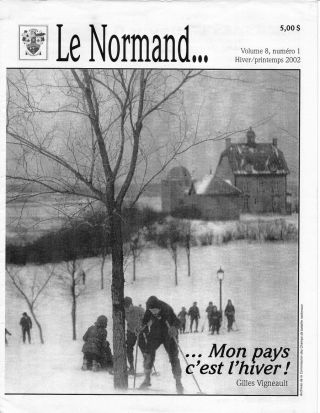 Numéro 1 : ...Mon pays c'est l'hiver!
- L'hiver en Nouvelle-France.
- L'expertise des Premières nations.
- Apprends-moi l'hiver, par Louise Gendron
- La pratique des sports aide à apprivoiser l'hiver.
- L'hiver, saison idéale pour les chantiers.
- Le Bombardier-taxi, le B-12, par Léandre Normand
- Gabriel Normand, cultivateur, mais aussi bûcheron et vendeur, par Léandre Normand
- Léandre Normand, journaliste et promoteur d'événements.
- L'International des collectionneurs et l'univers des collections, par Léandre Normand
- Au pays de l'érable – Rencontre des Normand dans une cabane à sucre à Montmagny le 1er avril 2001.
- Marcel R. Garnier, un chercheur aux archives de Sept-Îles, nous écrit.
- Hommage à l'abbé Raymond Normand, par Rosaire Dionne
Numéros 2 et 3 : ...en voyage avec nos oies blanches qui annoncent l'automne aux Louisianais
- Un merveilleux voyage en Louisiane par la route de terre, par Muriel et Denis Normand
- En Louisiane par la route d'eau, au milieu du XVIIIe siècle, par Germaine Normand
- Avoyelles Roots : La famille de Joseph Maurice Normand et Eugénie Mary Deville, par Deborah Melendy Norman et traduit par Germaine Normand
- The Family of Jean-Gaspard Normand and Marie Josèphe Chénier, by Clifford Normand, Jr.
- Avoyelles Roots : The family of Joseph Maurice Normand and Eugenie Mary Deville, by Deborah Melendy Norman